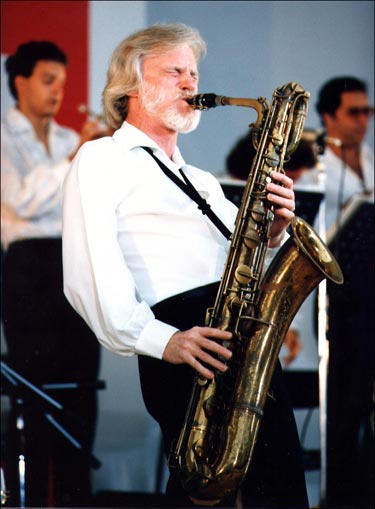 ANNOUNCING THE GERRY MULLIGAN 2022 JAZZ CHALLENGE CONTEST
We're inviting all High School musicians, grades (9-12) to participate in the Gerry Mulligan 2022 Jazz Challenge Contest! This High School performance competition is one in which students compete to be selected as the top performers of a Gerry Mulligan composition and this year's composition selection is… "Rocker", in honor of Birth of The Cool. 
While Gerry Mulligan popularized the use of the Baritone Saxophone as a solo instrument, High School musicians may submit "Rocker" on the instrument of their choice.
The contest runs from March 15 – April 30th!
ELIGIBILITY: Students in grades 9 – 12 in the United States.
HOW TO ENTER: Students are asked to download the lead sheets and upload a video of their performance on YouTube.  The Contest Entry form can be found here: Contest 2022.  Students must fill out the form completely and include the YouTube link to their performance.
PRIZES: Top Saxophone Player will receive a new Conn-Selmer Saxophone.
Two Musicians will receive $500 prizes
Two Musicians will receive $250
Five Musicians will receive $100
The Contest Rules can be found here: Gerry Mulligan's 2022 Jazz Challenge Contest Rules
For Educators: Download Big Band Charts