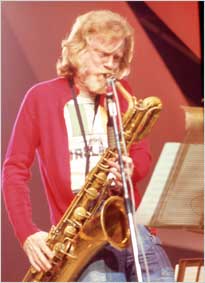 The Gerry and Franca Mulligan Foundation once again invites students and teachers nationwide to participate in the annual Gerry Mulligan Concert and Essay Contest
Teachers and students will have the unique opportunity to receive – for free – one of Gerry's most notable works: his Quintet arrangement for "Festive Minor", for the month of April (Jazz Appreciation Month).
Franca R. Mulligan, President of the Gerry & Franca Mulligan Foundation, says, "In honor of Music in our Schools Month in March, April's Jazz Appreciation Month, and Gerry's birthday on April 6th, the foundation is pleased to offer this music free of charge that would otherwise not be available to schools."
In celebration of Gerry Mulligan's birthday, teachers are encouraged to participate in the annual concert on Friday, April 5th, by performing Gerry's music. Photos and videos are welcome and can be posted to the Gerry Mulligan Instagram page: gerrysjazzlovers.
Festive Minor is available to educators and students with a valid school email address free of charge. Click here to order Festive Minor
To learn more about the Gerry Mulligan Essay Contest click here