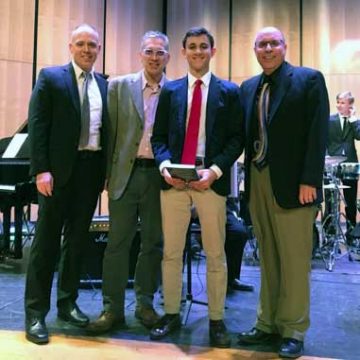 On Friday, March 1, the Greenwich High School Jazz Ensemble took first place at the Darien High School Jazz Jamboree competing against other local high school ensembles.
GHS pianist Lucas Gazianis was recognized as the outstanding soloist and in addition, was awarded the Gerry Mulligan Award as the most outstanding musician of the entire festival.
Gerry Mulligan was a Darien resident, and considered to be one of the most significant baritone saxophonists in the history of jazz. He shared the stage with the likes of Louis Armstrong, Duke Ellington, Thelonius Monk, Chet Baker, Miles Davis, Billie Holliday, Dave Brubeck and many others. A brilliant soloist, he was also a noted composer and arranger.